Fire Restoration
If you have had a fire in your home, whether that's a fire that was contained to the kitchen or a whole-house fire, Duckstein Restoration is ready to deliver a quick and powerful response to get you and your family back to a warm and comfortable home. As a Nationwide Blue Hammer Award recipient, we've shown time and time again that we're not afraid to go the extra mile in every step of the fire restoration process—from the first phone call to following up with you when the work is done. We have a 23-home-accommodating secure storage facility to store your belongings while we do the restoration work and repairs to your home, and attached to that facility is a state-of-the-art ultrasonic contents cleaning laboratory, where we'll restore your fire-damaged property. With a fleet of trucks, 24/7 on-call crews, and the desire to communicate with you as our award-winning crews deliver the quality you expect, it's hard to find a quicker and more competent restoration company to handle your fire restoration project.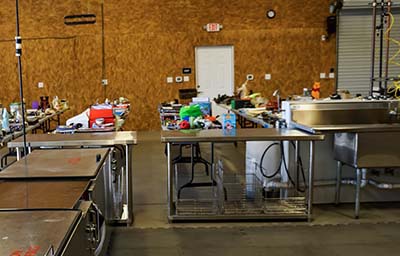 Ultrasonic Contents Cleaning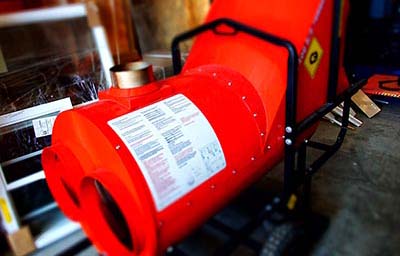 Portable Whole-House Heating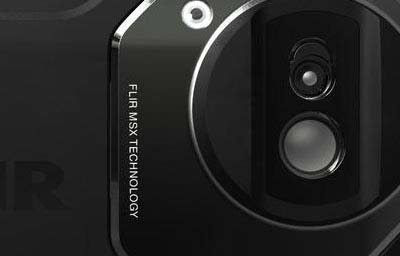 Thermal Imaging Equipment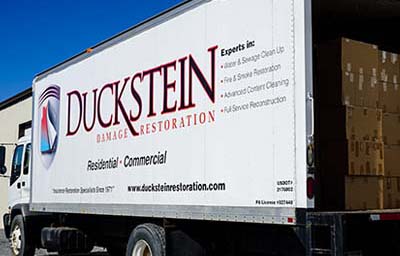 A Fleet of State-Of-The-Art Specialty Trucks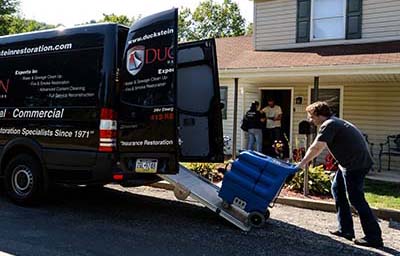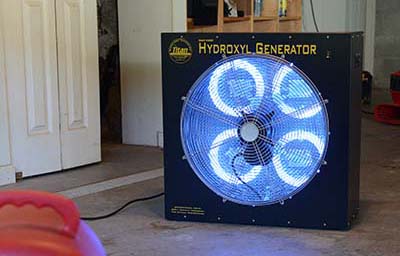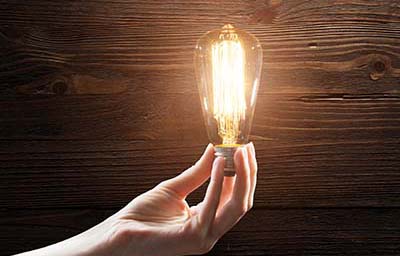 Portable Electricity for Your Home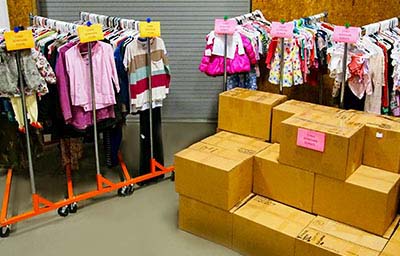 A Secure Warehouse for Your Belongings
Duckstein's Fire Damage Restoration Services
Our expert, in-house, IICRC-certified fire restoration crews are equipped to help immediately after a fire–in fact, our work should start as soon as the authorities say that it is safe to enter a property. The corrosive smoke and ash from a fire can cause tremendous problems to a property following a fire, and even the work that went into extinguishing that fire can setup further damage. Our crews are trained and experienced in the complete, full-service fire damage restoration of a property that may have just experienced fire, smoke, water, and chemical damage.
When you have smoke or fire damage and call Duckstein Restoration, you can rely on:
•  A first responder on the scene within two hours (depending on your location, many first responders arrive in less than an hour)
•  We'll help you work with your insurance provider to accurately communicate your damage as it applies to your specific insurance policy
•  As soon as the fire marshal allows access to your property, we will dispatch our crews to start mitigation of fire and smoke damage
•  We'll remove items that you need immediately, and also those items that are precious and irreplaceable (same-day service), such as passports, financial documents, licenses, antiques, heirlooms, etc.
•  We have a full, Ultrasonics-powered content cleaning division to restore your belongings.
•  In cold weather, we will winterize a home to prevent damage due to a lack of heat
•  We will restore power to the home (even using temporary poles, if needed)
•  We will box and transport your belongings to our secure cleaning and storage facility
•  Utilities will be inspected, repaired (if needed), and restored
•  Structural cleaning
•  We will handle any required demolition
•  Hydroxyl deodorizing (safe for you to be around), and we also provide an ozone generator and thermal fogging
•  Sealing with alcohol-based paint to prevent any residual odors from permeating living space
We also provide additional restoration services and reconstruction that may or may not apply to your specific situation. No job is too big or small for our crews–please don't hesitate to contact us with questions or have us come to evaluate your property. We've been in business since 1971 and are ready to provide you with the remedy and peace of mind that you need in such a troubling time.
After a Fire, Time is of the Essence
Fire restoration work is complicated. While it might seem that the immediate damage ends when the fire trucks pull away, the truth is that unchecked smoke and ash can cause significant damage to a home or business through corrosion, etching, and discoloration. Furthermore, the smell of a fire can quickly become overwhelming–infecting all of your personal belongings, as well. The most immediate problem after a fire is that ash discolors mostly everything. Appliances will quickly start to "yellow," and metals will significantly tarnish with each minute that passes after the fire. It's genuinely important that you call us here at Duckstein Restoration Services as quickly as possible after a fire to contain the residual damage fire, ash, soot, and smoke that can cause further damage to your property. We're ready to help save a remarkable amount of your belongings, even if you think there's no possible way we can.
Ultrasonic Cleaning and Fire Restoration
Our ultrasonic cleaning system is a cutting-edge, industry-leading workhorse that provides a superior level of contents restoration for our customers. Using a combination of water, heat, biodegradable soap, and ultrasound technology, the Omegasonic Ultrasonic cleaning system provides a perfect combination of non-toxic cleaning and elite cleaning precision to remove contamination from your personal belongings. By adding the system to our offerings, we are able to clean and restore contents and personal property that other companies likely cannot. When those items are precious to you, knowing that we can restore them to near-flawless conditions means the world to us.
Our Fire Restoration Service as Told by Our Customers
Fire restoration work isn't done the same way by all companies; in fact, it takes a wealth of technology, experience, and dedication to do it the right way. As a consumer, you're going to hear from everyone that it's "not a problem," but we all know the truth isn't as easy as that. We've hired an independent third party to collect reviews from our customers so you can have the most honest look at our work and dedication that we can provide. If you're not sure which Pittsburgh company you'd like to hire for your fire restoration work, please visit our reviews from our past customers. We like when our work speaks for us.